Robbery Bob | Free Stealing Action Game | Download on PC
In 2012, Level Eight unleashed Robbery Bob in the free-to-play game market. Soon after, the comical action game evolved to become a hit. After almost a decade, Robbery Bob is still a notable sneaking game which is now available on PC via an unblocked version.
If you have yet to experience the wacky adventures of our unlikely protagonist, then now is the right time to jump into this unique thrilling action game. Play as Bob, the iconic robber, and become the sneakiest thief of all!
Get ready for an action-packed sneaking adventure as the acclaimed stealth game, Robbery Bob, is now unblocked for PC. Join the millions of enthusiasts out there in their epic quest to steal some of the most precious loot. Sneak past security guards, avoid the light and use the environment to your advantage.
Unlock a plethora of bonus chapters, in-game characters, gadgets, and so much more. Loot everything you can find, but always make sure that you never get caught red-handed! Unleash your tactical prowess and real-time strategy skills. Become the iconic "Man of Steal" at the comfort of your PC when you play Robbery Bob today. Learn more about the in-game features waiting for you in the shortlist below!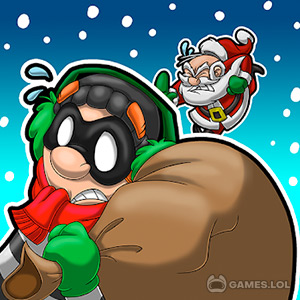 Robbery Bob
By Level Eight AB | 0 downloads
Stunning Original Graphics
Stunning graphics, a highly detailed environment, and smooth animations are just some of the elements that Robbery Bob does not have to steal. After almost a decade since its official launch, Robbery Bob can still compete with newer titles in terms of graphics and animations.
This only shows the amount of time and effort that Level Eight and Chillingo have invested to make Robbery Bob an instant gaming classic. So steal the moment today, for there is nothing better than AAA-quality games that come free of charge!
Enjoy The Hilarious and Immersive Narrative of Robbery Bob
Although it seems like Robbery Bob is a devious game, it is a fun and wholesome game for the whole family. It features a comical narrative about an amateur robber named Bob who happens to take on a series of robberies in exchange for his freedom. Bob's journey will take you on a roller coaster ride through three chapters. It's not like dangerous and scary action games that you usually experience with the likes of Granny or even Flippy Knife.
These levels are filled with dogs, security guards, greedy villains, and tons of puzzles to overcome! As the player, you have to help Bob to sneak past guards, dogs, and other obstacles in the way. Take on the challenges of each chapter to uncover the mysteries that will eventually lead to an exciting finale.
Use Costumes For Added Protection and Skills
For the most part, sneaking or stealth is one of the most challenging genres in video games. Speaking of which, Robbery Bob does not come short in terms of such challenges. Playing as Bob requires careful planning, timing, and quick reflexes. Bob also has a selection of costumes that can put him at an advantage in his criminal pursuits!
One example is the Ninja suit, which is available for 4,000 coins. This pricey costume is worth every coin because it allows Bob to sprint silently on any surface. Nevertheless, if you do not have the funds, you can go for the Bunny Suit. This only costs 1,000 coins. The Bunny Suit cannot help you hop around, but it can stun other characters in the game. This is very helpful, especially if a guard is about to catch you stealing!
You can also get a hold of the Knight's Armor for 1,500 coins. As impressive as this shiny costume may be, its purpose is mainly for damage protection. The costume also restricts Bob from sprinting. It cannot also protect Bob from stun guns. You would be better off with the Bunny Suit than this one.
Gather Your Loot Using Various Tools in Robbery Bob!
In addition to costumes, Robbery Bob also features a collection of tools to help you get through those tough levels. Just like costumes, these robbery tools are available for purchase through the in-game store. The first and probably most obvious tool is the lock pick that allows Bob to open a locked door without using a key.
Another is the Rotten Donut or Toxic Donut. As you may have guessed, this food item exists to wreak havoc in some poor person's stomach. This allows Bob to roam freely into the halls for a short time. Using this will help him give a great head start.
Another tool is the Wind-Up Toy, which costs 30 coins. This unique tool serves as a distraction for guards who are patrolling the hallways. Although it will not prevent them from discovering Bob, this is still a cheap and handy gadget to take during missions.
For 100 coins, you can get a Teleport Mine. As the name suggests, this tool is a trap that teleports any poor individual to an unknown location. Although it removes the NPC from the area, they can still spot Bob. So you still have to make sure that the character is already out of sight before you use this device.